What to do if you find SRCDs on an electrical installation condition report?
SRCDs to BS 7288
Through the recent editions of BS 7671 the demand on residual current devices (RCDs) being used to protect against electric shock has grown exponentially.
It started off for socket-outlets where we may use equipment outdoors. Nowadays we need to select them for any socket-outlet up to 32 A and we can only leave out the RCD if this has been carefully considered with a risk assessment - this may again change under the current DPC for BS 7671 AMD2.
In many situations over time, socket-outlets with RCDs built in, known as SRCDs to BS 7288, were selected for protection on a here and there basis if the socket-outlet could supply equipment to be used outdoors.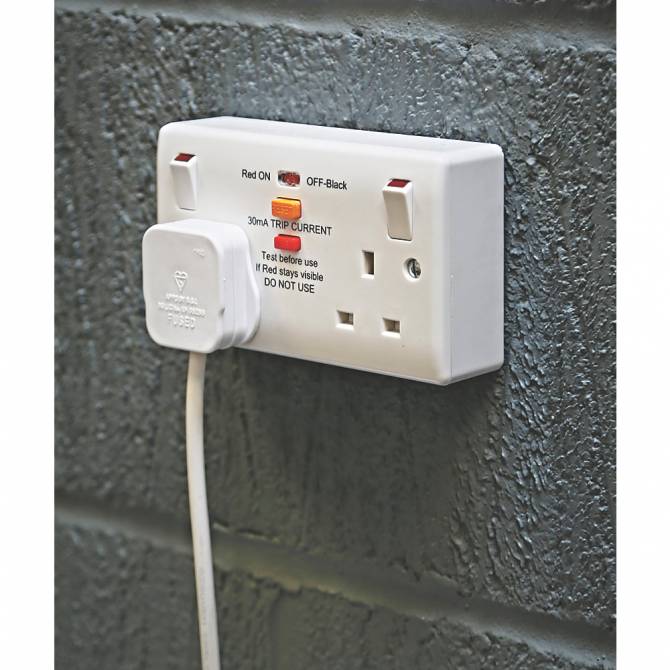 We then had a few further editions where final circuits would have more need for protection installed at the distribution position, for example protection against impact with buried cables in the wall.
Now moving forward into the eighteenth editions lifecycle it appears that more and more RCDs are still needed. But there is also the requirement to ensure that no more than 30% of the RCD operating current is to be expected on the device in normal use. For 30 mA RCDs, this translates to 9 mA of protective conductor current. To work with this, many electricians and designers are again considering the installation of SRCDs as an easy and simple way to achieve their selectivity requirements.
So are SRCDs to BS 7288 suitable for use for the reasons requested in BS 7671?
At the time of writing this.. No. Let me explain why I come to this conclusion.
In BS 7671 RCDs are required for socket-outlet circuits to be selected in accordance with Regulation 415.1.
Regulation 415.1 states:
The use of RCDs with a rated residual operating current not exceeding 30 mA is recognised in AC systems as additional protection in the event of failure of the provision for basic protection and/or the provision for fault protection or carelessness by users.
So it goes without saying that if an RCD is selected and installed for the purpose of additional protection, then it will need to comply with the requirement of Regulation 415.1 and provide additional protection for both basic and fault conditions.
It mentions within BS 7671 under Regulation 531.3.6 that RCDs for additional protection in AC installations shall comply with:
BS EN 61008 series, or
BS EN 61009 series, or
BS EN 62423.
So what does BS 7288 say?
The residual current device at socket-outlet level is normally intended to be installed by skilled or instructed persons. It can be operated several times per day. The isolation function is not necessary since pulling out the plug from the socket-outlet is recognized as providing effective isolation. The absence of permanently connected long conductors downstream of the RCD, together with a limited number of powered appliances, justifies reduced EMC levels. Residual current devices covered by this standard are intended for additional protection in case of direct contact only. These particular features having been considered, it was recognized that a dedicated standard for socket-outlet residual current devices (SRCDs) was necessary.
This part of the introduction to the document highlights that these devices provide additional protection for direct contact only. The device itself does not achieve sufficient isolation in it's operation as it is considered that isolation can be verified with simple removal of the plug or isolation of the fcu.
Isolation is a requirement for additional protection as suggested in 415.1 of BS 7671, yet BS 7288 considers removal of the plug as isolation. This difference in consideration allows for devices to be installed in SRCDs with a much smaller clearance gap within their devices.
Manufacturers may also claim that their device complies with BS 761, but BS 7671 has nothing to do with the construction of equipment or devices, just their selection and installation. So it is important to identify if your SRCD or other accessory, such as an FCU actually comply with the requirements of the standards mentioned within BS 7671 in Regulation 531.3.6.
It goes on further in it's scope to say..
This British Standard applies to residual current-operated devices (RCD) incorporated in, or specifically intended for use with, single pole and neutral and single pole and switched neutral and double pole socket-outlets, with provision of earthing of the socket-outlet for household and similar uses (SRCD:socket-outlet residual current devices). SRCDs, according to this standard, are intended to be used in single phase systems such as phase to neutral. SRCDs are only intended to provide supplementary protection downstream of the SRCD. SRCDs are intended for use in circuits where the fault protection and additional protection are already assured upstream of the SRCD.

SRCDs are neither intended to provide an isolation function nor intended to be used in IT systems.
It is clearly mentioned here that SRCDs are only to be considered for supplementary protection to the equipment connected downstream and fault protection and additional protection, as required under Regulation 415.1, shall be provided by another device upstream by one of the three devices mentioned above.
Industry response
This observation has been risen and discussed in a number of forums online and via email with the IET directly.
An inquiry with the IET was (after quite a delay) replied to by a senior engineer for technical regulations with the following:
As you correctly say, Regulation 531.3.6 currently recognises RCDs which are built to;

- BS EN 61008 series, or

- BS EN 61009 series, or

- BS EN 62423

RCD sockets are covered by BS 7288 which is not listed, I would recommend you have a look at this Standard to see what it says regarding additional protection.
The comment of additional protection is key and as we have already mentioned, BS 7288 mentions that additional protection is required upstream.
The problem is the contact separation within the BS 7288 devices is inadequate, and thus cannot meet the requirements for safe disconnection.
For compliance with the requirements of BS 7671 and other associated standards, to allow them to be used for isolation and emergency disconnection, and automatic disconnection in the event of a fault will require an update to BS 7288 and a modification to every product.
It does not look like this is forthcoming at the moment.
Thus BS 7288 devices must have an upstream 61008/9 or 62423 to meet the requirements of BS 7671.
Therefore it is not a deviation to install a BS 7288 device for additional protection, it is an outright non-compliance with BS 7671.
NICEIC
A question was also asked to the NICEIC within their technical magazine, 'Connections'. This question asked why there was no mention of BS 7288 within Regulation 531.3.4.1 and if SRCDs could be installed.
The response published in the NICEIC connections magazine stated:
SRCDs to BS 7288 remain suitable for use in electrical installations. JPEL/64, the joint IET/BSI committee responsible for the maintenance of BS 7671, has acknowledged that an error was made in not listing SRCDs as being suitable RCD types for use in Regulations 531.3.4.1 and 531.3.4.2 in BS 7671: 2018.

This error will be addressed in a future amendment, due to be published in March 2022. In the meantime, where SRCDs are to be installed, such use should be recorded as a departure on the Electrical Installation Certificate or Minor Electrical Installation Works Certificate in accordance with the requirement of Regulation 120.3.
Regulation 120.3 just mentions that any departures shall be recorded as mentioned above in the appropriate documentation.
This response from the NICEIC claimed that this will be addressed in a future amendment for publication in March 2022 - but at the time of writing this the public draft for this amendment has no mention at all. This amendment won't come until BS 7288 is itself amended and the devices are manufactured to an improved degree, which isn't likely anytime soon.
So what action should I take on an EICR?
SRCDs to BS 7288 are perfectly acceptable if they are used for the correct purpose. If you identify an SRCD while carrying out an EICR it needs to be determined as to why the SRCD was chosen and installed in the first place.
If the SRCD is to assist in achieving selectivity, or supplementary protection, and has a protective device upstream such as a BS EN 61008 or BS EN 61009 device, and these devices test satisfactorily, then there is no need to make an observation.
If the SRCD is selected for achieving supplementary protection and the equipment does NOT require additional protection, again there is no need to record an observation.
If the SRCD has been chosen to achieve additional protection and there is no other protection upstream, then it needs to be assessed as if there is no additional protection for fault conditions. This will most likely result in a C2 or a C3 observation depending on risk assessment.