Super Rods "Save our Sparks" survey
"Save our Sparks" safe isolation campaign is back!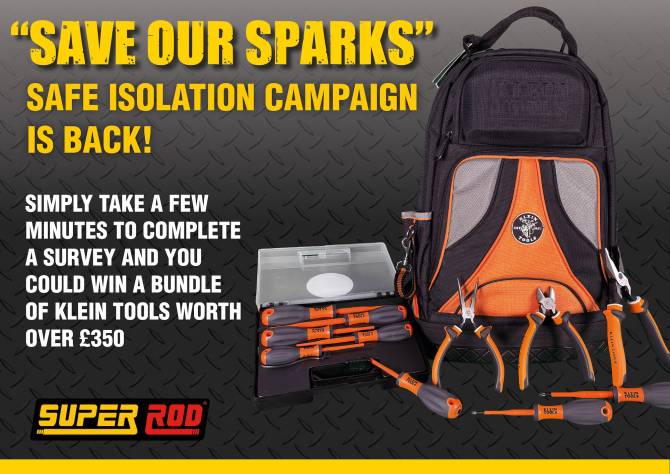 Simply take a few minutes to complete a survey and you could win a bundle of Klein Tools worth over £350
What is it all about?
The survey is designed to follow up on previous survey conducted in 2018 about safe isolation in the UK electrical industry. RIDDOR statistics suggest an average of 6 people die and a further 250 are injured by electrical discharge while at work every single year. Back then Super Rod launched the "Save our Sparks" campaign, a safety awareness campaign to get more installers thinking about their health and safety at work.
The "Save Our Sparks" campaign was inspired by Michael's Story. Michael Adamson was just 26 when he died after coming into contact with mains voltage power in an incident at work in August 2005. He was an experienced electrician but there were a number of health and safety failings on the site where he was working – including the failure to implement safe isolation procedures and a failure to provide lock off devices and testing equipment – which would eventually lead to his tragic death. For more information visit: https://michaels-story.net
Super Rod worked with Michael's sister Louise Taggart on this campaign to raise awareness of the need for safer working practices in the electrical industry after a survey of more than 800 members of the Electricians Community Forum on Facebook revealed that a quarter of electricians rarely or never used a lock out kit to isolate the electrical supply they were working on, and 1 in 5 didn't even carry one in their van or tool bag.
We need you!!!!
We are now running the survey again, 4 years on, to try and gauge whether or not safety has improved among electricians in the workplace.
You simply need a couple of minutes to answer the survey for a chance to win a Klein Tools Tradesman Pro Tool Bag kit including VDE insulated tools worth over £350 trade. See further details on the competition below.
https://www.surveymonkey.co.uk/r/RCYYLFY
(You Have Until 31st August to Enter)
Prize includes
1 x Tool Bag Backpack, Heavy Duty Tradesman Pro Tool Organizer
3 x Klein Tools VDE insulated pliers
8 x Klein Tools VDE insulated screwdrivers
T&Cs: Open to UK only. The winner will be contacted no later than the third week in September.
Has anything changed in 2022?
That's what this survey is going to tell us when we publish the results in September.
Michaels story's mission statement: to stop anyone else from losing a life or a loved one in a work-related incident which could and should have been prevented. This is such an important statement so please help us raise awareness about safe isolation so everyone takes the necessary precautions to prevent any incidents.
For more information contact Super Rod on
Tel: +44(0)1495 792000